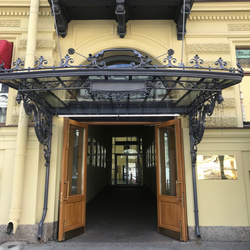 SOLART Gallery has one of the best collections of contemporary Art in St. Petersburg. It represents paintings and graphics done by established and young Russian Artists. The styles of the works may vary from Classical Realism to Avant-garde but the quality of works combines them together. It has been approved by the Gallery customers and success of the SOLART's exhibitions.
The Gallery organized a number of exhibitions outside St. Petersburg: in Moscow, Helsinki, London, New York, Los Angeles. It participated in the European Art Fairs.
The Gallery has recently MOVED from the Baron Stieglits Museum of Decorative Art to MALAYA MORSKAYA Street 18 (Ponomarev Center)
SOLART Gallery provides all necessary documentation and can ship artworks worldwide.